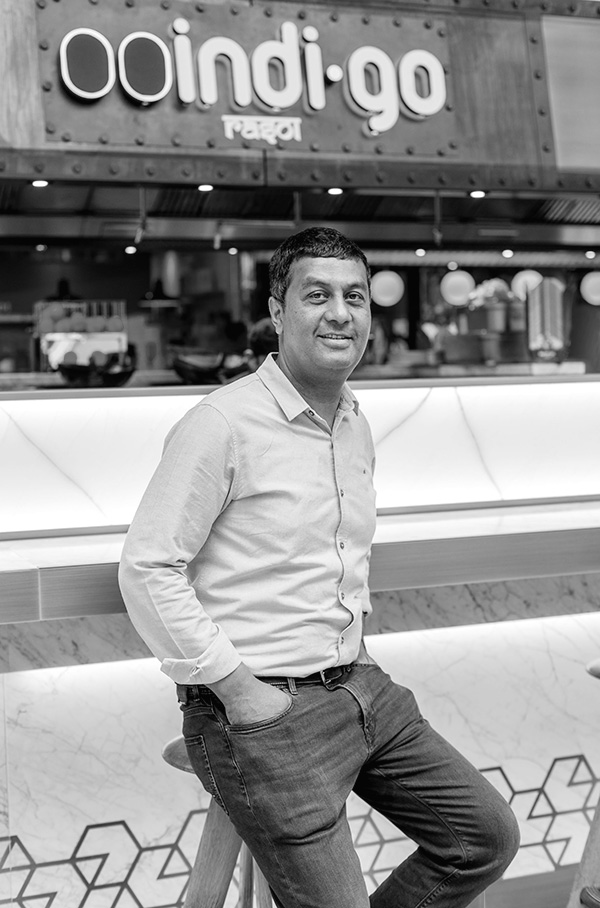 Ranu Miah
Founder & MD of Indi-go
My journey as a food entrepreneur was accidental and looking back, yet inevitable! It all started when I was in the garment trade around the bustling East End.
For lunch, I would always eat around the area, the choice and quality of food was limited! However, there were some true gems serving some amazing and delicious food.
My family roots guided me where I am today with my business ventures. My father was one of the first restaurateurs in the Spitalfields area running an Indian restaurant, sadly I didn't experience the atmosphere or the cuisine, but I've heard many stories of its prominence at family gatherings.  With my own family's rich heritage in the restaurant business,  I guess it was inevitable for me to follow in my father's footsteps and immerse myself into the food business like many other Bangladeshis in the early 90's.
After operating various standalone Indian restaurants from Surrey to East London, I was not content and I felt  there was something missing within the Indian cuisine sector in terms of service, value, time and efficiency often  associated with mainstream eateries. Through natural trial and error the concept of Indian Street Food evolved in my head and I took the biggest leap of faith and gambled everything by opening the first Indi-Go Rasoi site in 2011 in Westfield Stratford City food court adjacent to the 2012 London Olympic stadium. There were moments I doubted myself, but through prayer, the support of my family, and friends and not to mention all the hard working team members I remained faithful and committed to delivering a great eating experience!
The Indi-Go Rasoi concept was simple and it addressed all the missing gaps within the cuisine segment;  a lean menu coupled with delicious choices for everyone and all served under less than ten minutes effectively meant Indian Fast food had finally arrived at a mainstream level.
Since opening our first restaurant, we have established ourselves as London's 'go to' Indian street food experience and our outlets are located in Westfield-Stratford, Westfield-White City and Old Spitalfields Market and soon in other premier locations. We have delicious growth plans ahead and our Kitchen (Rasoi) brings authentic traditional street food of India to life in a modern contemporary setting. At Indi-Go Rasoi we source quality ingredients and fresh produce from which our chefs craft delicious bites that both tantalise your taste buds and transports you back to the streets of India!
My roots and heritage have always been important to me and to this day I'm still a community person  through the creation of employment and mentorship opportunities across the wider East End through direct initiatives and through various charitable initiatives that promote equality, education and entrepreneurship in both the UK and South Asia.